By JAMIE KIZZIRE
BIRMINGHAM POST-HERALD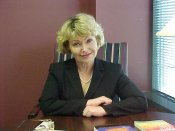 There aren't any weights or StairMasters at Career Concepts Inc., but Marlene Wallace says the goal of the career management firm isn't that different from a personal trainer.
"It's like going to the experts, just as people have personal trainers for their body," said Wallace, president of the Birmingham firm. "This is a trainer for your career."
Since 1998, Wallace's business has helped professionals get the jobs they want by assisting in the job search, prepping them for job interviews and advising them for three years after landing that dream job.
Career management is becoming more popular in a job market where corporations downsize and white-collar professionals rarely stay with a company more than three years, she said.
"Career management, in my opinion, is almost as important as getting that position," said Wallace.
Career Concepts has a vast network of contacts – including former clients – allowing the company to know about job openings that aren't published. The company has a copyrighted approach to identify its clients' skills and achievements. The result is a profile that can help match the right client to the right job.
"We find very often that people underestimate themselves," Wallace said. "In fact, 85 percent of people underestimate their achievements and what their market value is."
The firm also has a research department that culls together information about different companies so the client has a bank of knowledge when on interviews.
"They can talk like an insider in the interview," Wallace said. Clients go through mock interviews where they are videotaped answering 72 commonly asked questions. The videotape is used to zero in on weaknesses.
"They're totally honed for the interview," she said.
The company also works with the clients once job offers come in. They also advise clients when they get an offer but believe they might be offered the position they really want.
"We help with strategy," she said.
Once clients have the job, Career Concepts is available for the next three years to help them grow in their positions and deal with office situations or other problems that might arise.
"Getting the position and growing in the position are extremely important," Wallace said.
"The company also is available if a client restarts the job search during those three years, creating a safeguard against downsizing," Wallace said.
"We're almost an insurance policy for today's job seeker," she said.
Career Concepts also works with entrepreneurs, assessing their skills and potential fields for them to explore.
"A lot of times we have clients who have taken an early out and they've always had an interest in entrepreneurship," she said.
Career management firms are becoming more popular, said Susan Carver, director of the executive MBA program at the University of Alabama.
"They're springing up because of the tightening economy," she said.
The firms can be especially valuable to mid-level managers looking to add more "tools to the tool box," Carver said.
Wallace first became aware of career management firms after she left her job as a national director with an international publishing firm. She'd grown weary of the traveling required by the job.
"I decided that I couldn't pack that darn suitcase one more time," Wallace said.
She went through a career management firm and was hired to open an office for a career management company. She eventually bought the office outright, creating Career Concepts.
"I saw the need for career management," she said.
The company has generated more than $500,000 in annual revenue since its inception almost six years ago. And it is still growing, she said.
As a female entrepreneur, Wallace said the community is supportive.
"It's exciting to be a woman entrepreneur in Birmingham," said Wallace, the mother of two adult sons. "There's a strong-knit community for women."
Wallace said another factor in the success of her business is her staff, which has become like family.
"I think the key is having people that have a real heart for this, people who've been very successful in their previous businesses," Wallace said. "We've been very fortunate with what we do."
This article has been reprinted with permission from the Birmingham Post-Herald (11/09/2004)